Jacky Crosher and Nix Barnaville formed Hinged Theatre in 2011, with a shared passion to make highly interactive children's shows that have theatrical quality at their heart.
Hinged Theatre creates innovative shows for a family audience, in outdoor and unusual settings; we also lead workshops in theatre, circus and storytelling for young and old.
Jacky Crosher: Company Director
Jacky is a versatile actor and performer with over 20 years experience to bring to Hinged Theatre. She wishes to continue to develop dynamic, creative and comic physical theatre shows that will inspire and excite the audience. She trained in Circus Arts at Fooltime (Britain's first Circus School), Circus Space, and Palacy's in France, and in Physical Theatre at Central School of Speech and Drama, with Philippe Gaulier, Gerry Flanagan and John Wright . She has been at the forefront of the new circus theatre movement in Britain. As an accomplished trapeze artist she toured widely with numerous circus companies, including No Fit State Circus and Skinning the Cat Aerial Theatre Company. Currently Jacky is Head of Aerial (BTEC) at Circomedia, she directs and writes contemporary circus shows, and in her spare time sings in a jazz band.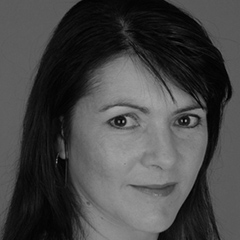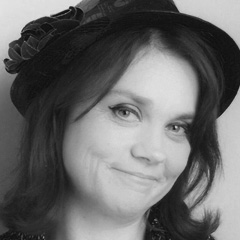 Nix Barnaville: Company Director
Nix trained as a theatre practitioner, touring with small scale children's companies until she ran away with the circus to Sydney, Australia and trained in Clown and Aerial disciplines.
On returning to the UK, she co-founded Cirque Idyllic and toured Europe performing in an aerial musical "Cabaret at the End of the World". After 5 years of fun, frolics and corsets Nix landed back in Bristol to have a baby and a new passion in storytelling and creative arts for young children has grown with her daughter.
She teaches adult circus aerial classes and Immersive drama workshops in schools.
Through performance company Malarky, she entertains the public, stilt walking and roller-skating in shopping centres, parades and carnivals across the UK, and she can be seen hanging from the ceiling and playing with fire at corporate events and private parties!
Nix is currently embarking on an MA in theatre for young audiences and recently completed a professional engagement placement at The Egg theatre Bath .